History of Yantis-Johns Insurance Agency
Serving Pittsburg, Mount Pleasant and the surrounding areas in Texas.
W A (Bill) Cozart founded Cozart Insurance Agency in 1946. The first office was at 115 Quitman Street, just west of what was a longtime barbershop. In the early 1950s the agency moved to 119A Jefferson Street and rented an office from the Pittsburg Gazette. The office was located between the former Gazette location and what was Franklin Food Store. Mr Cozart served on the Pittsburg School Board for seventeen years and was a director of the Pittsburg National Bank for over twenty years.
In 1952, Mr. Cozart's brother-in-law, Bullard Johns, joined the firm and it became Cozart-Johns Insurance Agency. Mr. Johns was also a founding member of the Cypress Bank Board and served until his death in 1996. In 1959, the agency moved to an office in the Masonic Building, currently occupied by Camp County Abstract Co.
In 1971, Bullard Johns's son, Charles W (Chuck) Johns joined the firm, and the Johnses purchased Mr. Cozart's interest in 1975.
Like Bullard, Chuck has also been active in the community. He served two terms on the City Council (1972-1976), three terms on the Pittsburg School Board (1986-1995) and is currently serving his sixth term on the NTCC Board (1996- Present). He also serves as a member of the Cypress Bank Board.
In 1985, the business moved to its fourth and current location at 124 Jefferson Street. The building was in disrepair and they restored it to its current condition. Bullard was active in the business untill his death in 1996.
In May, 2002, Chuck's son-in-law, Christian Yantis, left AT&T to become the third generation to work in the business.
In keeping with tradition, Christian too has been active in our community, serving as president of the Rotary Club, teaching Sunday School, and serving on the Main Street Committee.
In 2012, the name changed to Yantis-Johns Insurance.
Why do business with Yantis-Johns Insurance?
Unlike a captive, or direct insurance company who only offers their own proprietary products, our agency is 100% independent of any one company. Many insurance consumers don't fully understand just how important that really is.
When it comes to something as important as insurance, it's imperative that you work with an agency who has an in-depth knowledge of multiple insurance products, companies, and guidelines — not just one.
At the end of the day, what separates one agent from another, is their ability to proactively service their policy holders, and their knowledge of the insurance industry, products, and different situations that may present themselves to their clients.
Independent Agent Vs. The Rest
Here is a quick comparison of the differences between an independent agency like us, and the various other types of companies that are out there: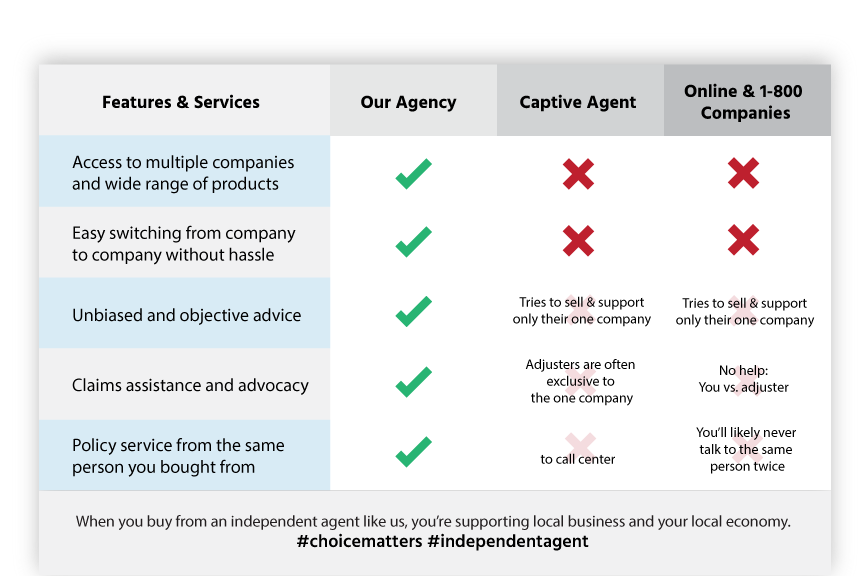 If you'd like to get started with a complimentary quote and/or policy review, we'd be happy to help you any way we can. Simply complete the fields below to get started online in a matter of seconds.
We appreciate the opportunity to help you, and look forward to servicing your insurance needs! Feel free to call us directly if you have more detailed questions.